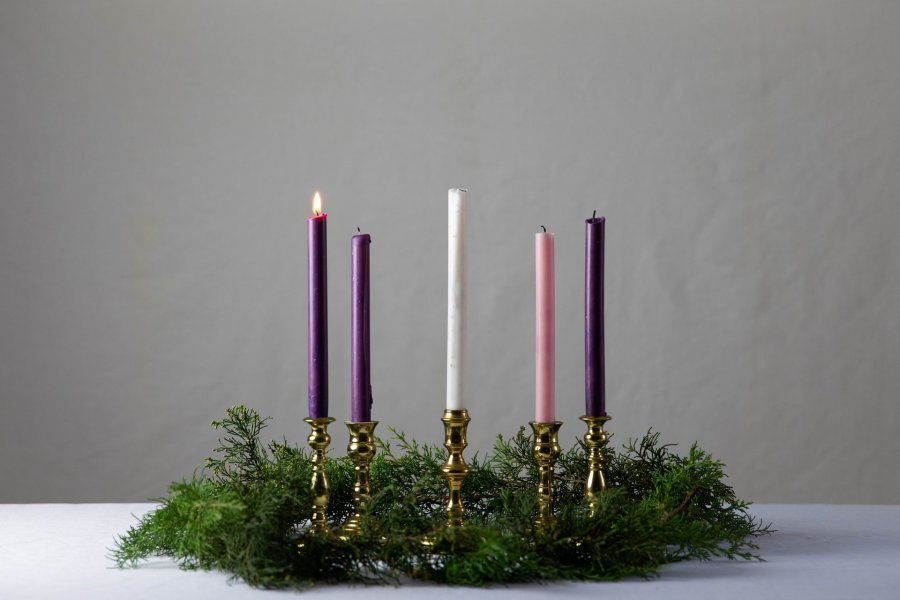 May he strengthen your hearts so that you will be blameless and holy in the presence of our God and Father when our Lord Jesus comes with all his holy ones. (1 Thessalonians 3:13)
2021 has, at times, felt both like it has dragged on and also flown by. This Sunday is Advent Sunday, and we begin the season of Advent. This is a period of expectant waiting for joy. Part of that is the joy of celebrating Christmas together. Advent is also a time where we think about Jesus' return: there will be a day when he comes back. As the apostle Paul writes to the Thessalonian church, he wants them to be ready for that day.
You would be very welcome to join us at our 10:30am service in St Andrew, Cuffley, or at 8:30am for a service of Holy Communion in St Thomas, Northaw, this Sunday, as together we look forward to the return of Jesus Christ and how we can be ready for that day.
The 10:30am Sunday morning service will be taking place simultaneously online and in-person at St Andrew.  Streaming for the 10:30am service will start at 10:25am, and can be accessed directly via Facebook or YouTube, found on our website, and is advertised on our Facebook page and YouTube channel.
If you encounter problems with viewing the service via Facebook (or YouTube) please follow the link for YouTube (or Facebook) instead.
Coronavirus arrangements
Cases of COVID-19 are increasing in our area. While there are no formal restrictions in place, please do maintain caution. Can I encourage you to consider wearing face coverings as you move around the buildings and when singing.
Morning prayer
You would be very welcome to join us for a short service of Morning Prayer in St Andrew at 10:00am on Wednesday morning.
Christmas Coffee Morning
This Wednesday, we'll be holding our second Christmas Coffee Morning. The format will be the same as a usual coffee morning, but in addition we will be selling home made produce and various Christmas gifts and goodies. As with all our coffee mornings, these are open to everyone.
St Andrew's Day
This Tuesday (30th November), at 5.00pm, there will be a service to mark St Andrew's day. This will be followed by fish and chip supper. Please sign up today using the list at the back of St Andrew's, or see Kathy Shingles.
Advent Readings
During Advent, we'll be providing a links to short daily readings from the prophet Micah. These will be in the weekly update emails, and in the weekly prayer emails.
Christmas Nativity Trail
We'd love to have our church family add some Nativity cheer all around Northaw and Cuffley by decorating their windows with the story of the first Christmas. We'd then invite local families to see how many they could spot as they walked around the two villages, and use it as a way of connecting with our community. If you'd be interested in doing this, or to find out more, please get in touch with Anna (anna@kilgour.org.uk).
Memorial Tree
As part of our season decorations, one of the trees in St Andrew's is being set up as a memorial tree. We are going to make some blank paper decorations available for anyone, if they would like, to write the name of someone they will be missing this Christmas. These will be collected together and put on the tree.
PCC Meeting
The PCC met on the 11th November. A brief summary of the meeting is available online.
Praying during the week
Please can I encourage you, when possible, to stop at noon and spend a few minutes praying; we'll email out possible areas for prayer each week.  If you would like to make any suggestions, please email prayers@norcuff.com.
How to join us live
The website has the information on how to join our live services and virtual coffee.  Do feel free to share the links to our services with friends and relatives; everyone is very welcome to join us, no matter where they are in the world.